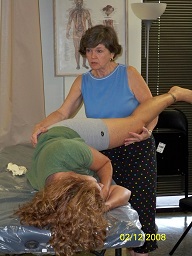 Clinic
From a client ...
"I had been in chronic pain for ten years. Within a couple of sessions, the pain was gone!"
G. D.
Palm Beach, FL
Hands-on Bodywork Therapy Clinic
Visit our Clinic for Relief from Pain, Injury, or Stress.
About our therapists
All full time clinic therapists are licensed to practice by the state of Florida. We are all Nationally Certified in Professional Massage and Bodywork and are fully insured.
Hours of operation
All treatments are by appointment only.

Monday to Friday: vary, by appointment.

Saturday/Sunday: Closed.
Special arrangements may be made.
To schedule your appointment or for more information
Call 561-848-3902