CIAT: Clinical Integration and Application of Therapies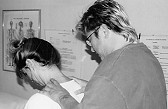 This specialty course is a 6-hour experiential day. You work with and assist Sue Adams in the ASA Pain Relief Therapies, Inc., clinic in North Palm Beach, Florida. During this time you learn how various therapies can be integrated and applied in a clinical setting with real clients. You learn how to determine which therapies to use with each client and how to move from one modality to another in a single treatment session. The basics of appropriate documentation/notation for each therapy are included. Students have the opportunity to ask questions throughout.

Each day is unique. The emphasis depends on the treatment requirements of the client as well as the student's background, interest, and areas of study.
Prerequisites: Permission of instructor. Successful applicants will have some background in at least one of the following: Muscle Energy Technique, Craniosacral Therapy (either Biodynamic or Upledger or both), Visceral Manipulation, or Neuromuscular Massage Therapy.
Tuition: $175.00
Schedule: Scheduled by individual appointment.
Apply Now: APPLICATION FOR THIS CLASS MUST BE MADE BY PHONE. Please call 561-848-3902 to register
6 CE Hours: This course is approved by the Massage Board of Florida (20-347548). Alison Sue Adams is approved by the National Certification Board for Therapeutic Massage and Bodywork (NCBTMB) as a continuing education provider.
"Very enlightening and educational. A must for any therapist exploring the therapeutic avenue of bodywork."
K.L. Chidsey, Licensed Massage Therapist

The Right Tool for the Job!
ASA Pain Relief Therapies, Inc.
745 U.S. Highway One, Suite 202
North Palm Beach, Florida 33408 Map
(561) 848-3902






©2002-2018 by ASA Pain Relief Therapies, Inc. Privacy Statement